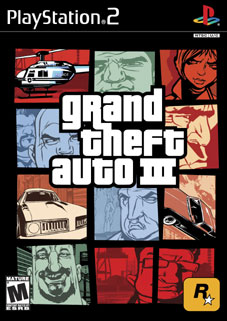 LIBERTY CITY, USA.
WELCOME TO AMERICA'S WORST CITY.

'You've been betrayed and left for dead. Now you're taking revenge, unless the city gets you first. Mob bosses need a favor, crooked cops need help and street gangs want you dead. You'll have to rob, steal and kill just to stay out of serious trouble. Anything can happen out here.'



Grand Theft Auto 3 is the newest installment in the series, and I think it is definitely the best. With an all new 3D view, more missions and generally amazing gameplay, I recommend that you should buy a Playstation 2 just for this game!



GTA3 Radio Guide
Character Bios
SECRET ISLAND!





GTA3-The Essential Walkthrough .







GO TO OFFICIAL GTA3 SITE
Back to main page